Top Notch Washington DC Roman Shades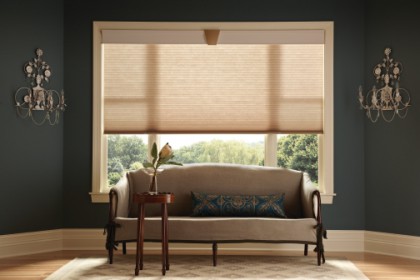 If you are in the market for an expert to work with for your Washington D.C. Roman shades, you have come to the right place. Our Washington DC shutter company has been the local leading service provider for all things related to window treatments, due in part to the fact that we have 35 years of industry related experience backing the name with the professional history of our owner and founder. Now, let us show you how all of this can help to benefit you by getting you the results that you want.
You will also greatly appreciate how easy we make the entire process for you, starting with the free consultation we provide for you. In fact, we bring the shopping experience to you so you can shop at home. How do we do this you may ask? With the convenience of our mobile showroom, you can see what we have to offer and see how well it will work with you in your own home.
Roman Shade Professionals
Of course one of the first things to consider is exactly what makes roman shades different from other choices you have for window coverings. These are shades, most commonly comprised of fabric, that accordion fold, their pleats stacking up one on top of the other. In most cases, there is a cord that is used to pull up or let out the shades, which is the only reason some homeowners don't like them – the cord could be a safety hazard in homes with pets or small children.
Due to the fact that they are made of fabric, this means that they are available in a wide variety of colors, looks and patterns. This makes them ideal for using in a variety of interior design applications. Keep in mind when making selections for window coverings that you are choosing something that is visible from both inside and outside of your home; select wisely as these will need to pair well for your interior and exterior design aesthetics.
Washington D.C. Roman Shades
If you are ready to weight the pros and cons of the various window treatment alternatives out there, then give our crew here at Shade & Shutter Sales a call. We look forward to having the opportunity to team up with you and help you understand what you have available. From there, we can help you determine if roman shades are the right choice for your Washington D.C. Home, or not. Don't delay, call today and let's get working on your window coverings.
Recent Articles
3 Important Questions to Ask When Getting New Shutters

Your window shutters are an important installation within your Washington, DC, home, and picking the wrong shades could lead to many months and even years to headaches. To avoid those headaches, be sure to pick the right shutters for your home and your needs. And to do that, you simply need to ask yourself a…

Read More

3 Benefits Of New Interior Shutters For Your Home

When you are in the market for new window treatments for your home, there are going to be a slew of different options out there for you to decide between. In fact, with all of the different options available to you, it can be easy to get a bit overwhelmed with it all. With that…

Read More

If you are looking for Washington DC Roman Shades then please call 703-651-0358 or complete our online request form.