Outstanding Washington DC Wood Blinds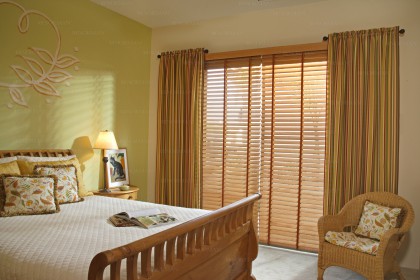 It should come as no surprise that, for many local homeowners, the favored option is Washington D.C. Wood blinds. So the good news is that you have already located the name that is synonymous with superior quality when it comes to window treatments in three states! At our Washington DC shutter company, we take great pride in being the local leading service provider of wood blinds, as well as other top choices for window coverings. Now, let us show you in person all that we have to offer by bringing the mobile show room to you.
What better way to shop for the treatments that will be in your home then shopping at home? We provide you with a free consultation in which we bring your choices to you; this makes it easier for you to be able to truly consider how your choices will look in your home. We care about being able to provide the highest level of satisfaction to each and every one of our clients, so give us a call today in order to get started. Let us show you firsthand how we earned the flawless reputation that we have.
Wood Blind Professionals
While each choice for window coverings offers a unique set of pros, one of the most obvious ones with wood blinds is the stunning good looks. For many people, there is just nothing that beats the look of real, natural wood. Some other benefits include:
Versatility – The look of wood can go with just about any interior design aesthetics; this includes a variety of colors as well as looks that cover everything from traditional to contemporary, plus everything in between.
Cleaning – Although real wood will require the occasional polishing, these blinds are otherwise easy to keep up with when it comes to simple cleaning.
Privacy – Many homeowners appreciate the level of privacy these blinds offer. The thick wood prevents even shadows or outlines being visible, unlike thinner of sheer window treatment options.
Washington D.C. Wood Blinds
If you would like to see if Washington D.C. Wood blinds are right for you, all you have to do is give us a call to get started. Let us show you all that we have to offer by bringing the showroom to you for your free consultation. With over 30 plus years of expertise backing up the company, you can count on Shade & Shutter Sales to take care of this for you. Don't ever settle for less than the best when it comes to addressing your need for high quality window coverings.
Recent Articles
The Importance Of Working With A Professional Shutter Company

You want your Alexandria home to look its best, you want to finally have the home of your dreams. The problem is that you cannot actually accomplish this without taking care of every last detail. One of the key elements to making this possible is addressing your need for the right window treatments. Whether you…

Read More

3 Benefits Of New Interior Shutters For Your Home

When you are in the market for new window treatments for your home, there are going to be a slew of different options out there for you to decide between. In fact, with all of the different options available to you, it can be easy to get a bit overwhelmed with it all. With that…

Read More

If you are looking for Washington DC Wood Blinds then please call 703-651-0358 or complete our online request form.