Amazing Polycore Shutters in Washington DC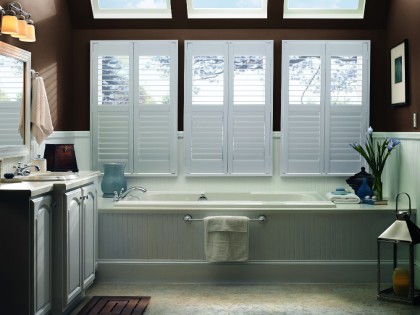 For many homeowners, Washington D.C. Polycore Shutters are the only way to go. The good news is that this just happens to be one of the services that we are able to offer our customer base here at our Washington DC shutter company. We take this line of work seriously and that shows in the results that we get for every single one of our clients. We never settle for offering anything less than 100% satisfaction for each of our customers, and you should never accept less than that in the service you accept.
The choices you make, in relation to your window coverings, have an effect on both the inside and outside of your home. Since you can see your window treatments from inside and outside your home, you need to make your choices accordingly. This is one of the many reasons it is important to work only with a professional in order to get this job done. We can offer you advice and guidance when other companies are more focused on trying to push you into products that simply make them a bigger profit.
Polycore Shutter Experts
What some people want to know, right off the bat, is exactly what the difference is between polycore shutters and other shutter alternatives. Some of what makes people prefer this option includes, but is not limited to:
Durability – As you may have guessed, the synthetic makeup of polycore shutters makes them even more durable than traditional wood ones. The best part is that they can look just as stunning.
Value – Professionally designed and installed polycore shutters can help to increase the property value of your home, so you can think of the cost up front as more of a financial investment.
Function & Efficiency – While all shutters offer ease of function and an added layer of insulation for improved efficiency, polycore tops them all.
The best way to find out all of the benefits is to give us a call right now and let us answer any questions that you may have. We can even help you get started by bringing the showroom to you and helping make the browsing and selection process that much easier.
Washington D.C. Polycore Shutter Company
The expertise behind our company name brings more than three plus decades of experience to the table. The bottom line is that when you are in the market for Washington D.C. Polycore shutters, the name that you can trust in and count on is Shade & Shutter Sales LLC.
Recent Articles
Choosing The Right Custom Interior Window Treatments For Your Arlington Home

Sure, some Arlington, VA homeowners seem to already know exactly what kind of custom interior window treatments they want. And this can make the remaining homeowners who seem lost by the whole process feeling that much more lost in the shuffle. The trick is to simply take a deep breath, don't go into panic mode…

Read More

The Importance Of Working With A Professional Shutter Company

You want your Alexandria home to look its best, you want to finally have the home of your dreams. The problem is that you cannot actually accomplish this without taking care of every last detail. One of the key elements to making this possible is addressing your need for the right window treatments. Whether you…

Read More

If you are looking for Polycore Shutters in Washington DC then please call 703-651-0358 or complete our online request form.