Fantastic Faux Wood Blinds in Washington DC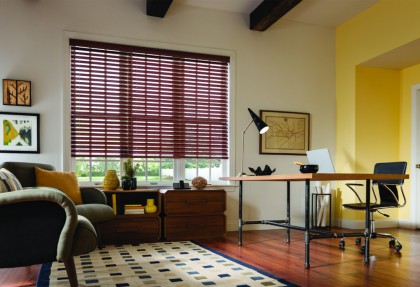 If you are considering faux wood blinds for your Washington D.C. Home, you are about to make a great decision. Now, to make that an even better choice, make it a point to team up with the experts here at our Washington DC shutter company in order to take care of whatever it is that you need for your window treatments. While some homeowners swear they can tell the difference between real and fake, when it comes to wood, they also swear they can only live with the real thing. Yet wise and more flexible homeowners realize that there are several advantages to opting for faux wood as opposed to real.
The main benefit is that faux wood is so much less expensive than the real thing. This enables you to stretch your window covering budget that much further and maybe even add some other details to your design planning that you could not have otherwise afforded. And while both options are relatively easy to clean, care for and maintain, only real wood requires a little more maintenance in order to keep up the look and health of the real wood. Let our pros help you understand your options and make the best choices possible.
Faux Wood Blind Experts
So what are some of the other reasons that the faux version can be a better choice, as opposed to the real thing?
Moisture Resistant – While real wood blinds are not a great idea for rooms like bathrooms or kitchens, due to the increased level of moisture, faux wood works just fine in these spaces.
Hypoallergenic – Because dust and dander do not cling to fake wood, the way it can tend to stick to the real thing, this makes them the ideal alternative for households where any members may suffer from asthma, allergies or other breathing related issues.
Durability – The faux version is much more durable against normal wear and tear, as well as greater stress from factors like children and pets.
Washington D.C. Faux Wood Blinds
Shade & Shutter Sales LLC has been the name that locals trust in order to get the options and results that they want. We pride ourselves on being the number one option for all of your window treatment choices, including Washington D.C. Faux wood blinds. Now, let us show you how our three plus decades of industry related expertise backing can make all the difference in the service that you get. Don't settle for anything less than what you really want and let Shade & Shutter Sales LLC be the one that you trust in to make that happen for you.
Recent Articles
4 Advantages To Installing Faux Wood Blinds In Your Home

When you are in the market for new, high quality window treatments for your home, it might be worth your time to consider investing in brand new faux wood blinds. Window blinds are an incredibly popular and versatile window treatment option among homeowners all over the country, and among window blinds, one of the most…

Read More

Wood Blinds Or Faux Wood Blinds – What's Right For Your D.C. Home?

Being a homeowner means having to make a lot of choices, choices which often include thinking about the window treatments for your Washington D.C. Home. One of the most popular options out there happens to be wood blinds. However, the recent surge in popularity with faux wood blinds has many consumers wondering if they should…

Read More

If you are looking for Faux Wood Blinds in Washington DC then please call 703-651-0358 or complete our online request form.