4 Advantages To Installing Faux Wood Blinds In Your Home
---
On April, 02, 2023
---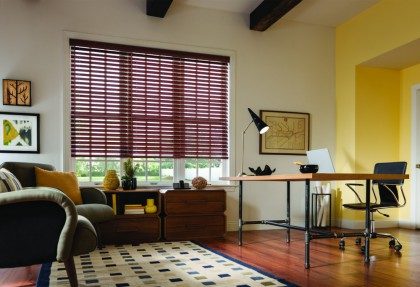 When you are in the market for new, high quality window treatments for your home, it might be worth your time to consider investing in brand new faux wood blinds. Window blinds are an incredibly popular and versatile window treatment option among homeowners all over the country, and among window blinds, one of the most popular options out there are faux wood blinds. Faux wood blinds are generally constructed from vinyl, or a blend of both real wood and vinyl, and can still provide you with that wonderful warm aesthetic that you would get from real wood blinds, but at a fraction of the cost. When it comes to your home's window treatment solutions, you want to make sure you are investing in something that you can count on to enhance both the appearance and the value of your home at the same time, and that is exactly what you can expect when you decide to go with faux wood blinds. If you are still on the fence about whether or not faux wood blinds are the right choice for you, take a minute to read through this short list our team of professionals have put together that highlights just a few of the more significant benefits that come along with investing in new faux wood blinds for your home.
Cheaper Than Real Wood
One of the most common reasons that homeowners tend to make the investment in faux wood blinds is because it tends to come at a much more affordable price than investing in the real thing. Even though faux wood blinds are cheaper, they still offer the same warm aesthetic that you would expect from the real thing. In addition, because faux wood blinds will wind up costing you so much less than their real wood counterparts, you can actually afford to decorate more windows for the same price, letting you get quite a bit more mileage out of your investment.
Resistant To Moisture
As most homeowners are aware, one of the main disadvantages to real wood blinds lies in their susceptibility to moisture and the like. Natural wood tends to absorb a lot of moisture if it is ever exposed, meaning that if you have them installed in any rooms of the house where the is a great deal of moisture or humidity in the air, they could wind up sustaining a great deal of damage in a very short amount of time. However, with faux wood blinds, this isn't an issue you need to worry about. Because of the nature of their construction, faux wood blinds don't absorb moisture like their real wood alternatives, making them an ideal option when you are looking for window treatment options in bathroom and laundry rooms where there is likely to be a great deal of moisture in the air. This way, you can still get that warm aesthetic that you want for your space, but you don't have to worry about the excess moisture in the air ruining your investment.
Easy To Clean
Whereas real wood blinds can be somewhat difficult to keep clean over time, faux wood blinds are actually quite easy to keep looking their best. Faux wood blinds don't require a great deal of care in order to keep them looking good, generally only requiring a quick rinse from time to time or just a quick wiping off whenever they get a little dirty. Because faux wood blinds are so highly resistant to moisture, there is no danger in cleaning them with water and it won't be able to seep beneath the surface and cause any kind of damage like rotting or warping.
Durable
Because of the nature of their construction and the materials used in it, faux wood blinds are incredibly durable and can usually last you much longer than you could hope to expect from natural wood blinds. Unlike natural wood, faux wood blinds aren't in danger of becoming faded by being exposed to the sun's UV rays over time, as there is no protective layer that can be worn through. In addition, because they don't absorb moisture in the same way as their real wood counterparts, you don't have to worry about them rotting or warping to the point that you have to have them replaced. You can rest assured that your investment in new faux wood blinds is something that you and your family are going to be able to enjoy together for many years to come. Call Shade & Shutter Sales LLC for more information today!
If you are looking for a shutter company in the Washington D.C. area, give us a call today at 703-651-0358 or fill out our online request form.